"Get men involved," said Vice President Joe Biden at a reception in honor of the DC Volunteer Lawyers Project (DCVLP) for their annual "Voices Against Violence" event at the residence of The Ambassador of Japan and Mrs. Sasae.  "Pick up your damn phone. Call. Spread the word. You've got to stand up because we can't beat this until there is not a single woman in America who blames herself for being victimized, not a single man in America who thinks it is justified to raise his hand. You are doing, as my mother would say, you are doing God's work. You're saving women's lives."
The Vice President's efforts on behalf of domestic violence against women goes back to June 20, 1990 when then-Senator Joe Biden introduced the Violence Against Women Act (VAWA) in the United States Congress. It was a landmark piece of legislation "that changed the way our country responded to domestic violence and sexual assault. VAWA changed law enforcement practices, improved the criminal justice system, and created a network of services for victims. The bill established new federal crimes of interstate domestic violence and stalking, doubled penalties for repeat sex offenders, and sparked the passage of laws at the state level to protect victims," according to a statement by The White House.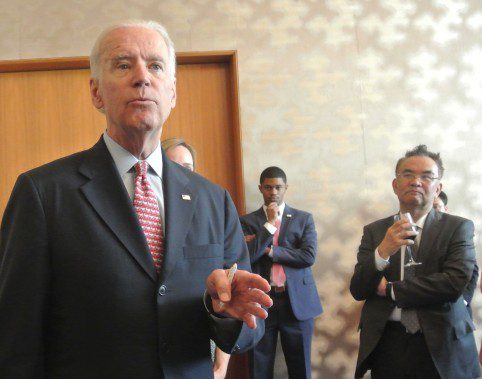 The Vice President
"Imagine what it is like for a woman to pick up the phone and call for help. Imagine what it's like for a woman who does not have your help to be able to walk into a courtroom. It's intimidating for her.  It's intimidating for you," he explained to an attentive audience while thanking all the volunteer lawyers. "I was a trail lawyer. I've been in court a lot. I was a public defender and I don't care how good you are, every time you walk into court, if your palms aren't sweating, your client's in trouble. Imagine what it is like for that woman. What happens usually is real simple: The husband says 'You leave, I'm keeping the kids. You leave, you're out of the house.'  Who does she have to fight for her? Any good lawyer in this town is going to cost a minimum from $250 to $400 dollars an hour to handle the case. There's no way she can do that and is the reason why 70 percent of the kids on the street are because of domestic violence."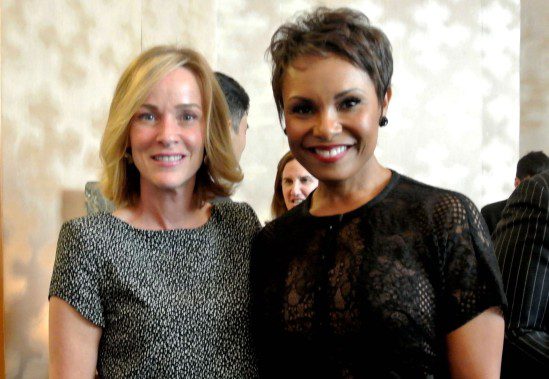 Co-Chairs Kathleen Biden and Tisha Hyter
"It started about six years ago when a close friend started trying to take a pro bono case," Kathleen Biden told Hollywood on the Potomac, "and learned that the cost of malpractice insurance was too expensive to take just one case so she went on a Listserv and said, 'Is anybody else interested in taking cases regarding domestic violence?'  The response was overwhelming. We thought maybe a few of us could get together and we would do an umbrella insurance policy, but the response was so great that they developed it into the DC Volunteer Lawyers Project. We now have over 1,000 volunteer lawyers. What made me personally get involved and raise money for them is the business model."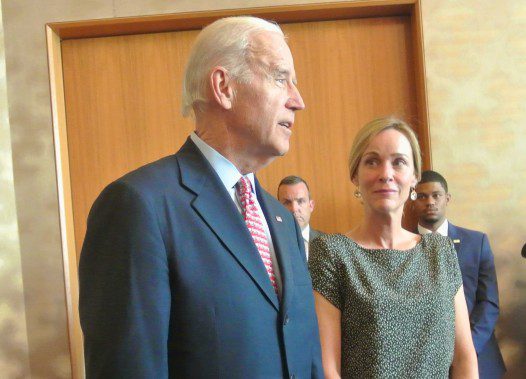 Joe Biden and Kathleen Biden
"It's an important cause. Our family, the Biden's, have been involved with the Violence Against Women Act since my father-in-law passed legislation 21 years ago," she added. "The cause was important to me and I'm comfortable raising money for it because it has this brilliant business model that's made up of all volunteer lawyers and it's meeting a need here in DC. It's helping these families, these women and children, and lawyers are getting experience in court. Women who have taken time off to raise their kids or are working in a job but not using their law degree are able to take a case, work for two weeks. A Civil Protective Order takes about two weeks. They are given a partner to work with and DCVLP provides the supervision and support with filing and all that stuff so that they're going into court with an incredible amount of support. They get court experience and because we have these committed volunteers and great staff we have an over 90% success rate. I think it's over 95%. We win our cases."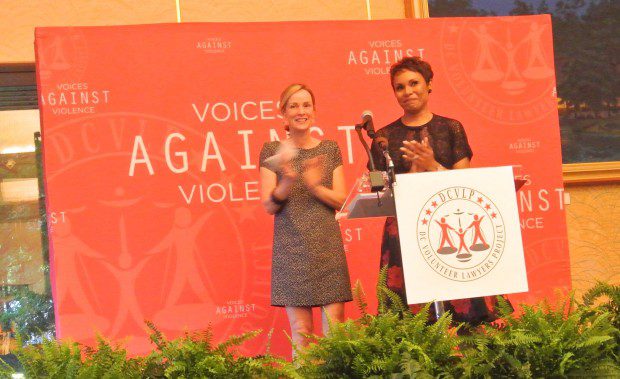 Kathleen Biden and Tisha Hyter
"I am in love with this organization," Tisha Hyter told Hollywood on the Potomac. "DCVLP really provides a voice to those who find themselves voiceless. I remember that feeling from moons ago when I was going through my own personal situation. Even the most articulate people can feel at a loss for words and I wondered how did I find myself in this situation? What do I do next?  How do I stand up for myself in this really daunting environment? Having DCVLP provide pro bono services allows someone to really feel like they have the support to take the next step. I think that's all we focus on, one step at a time. It's very overwhelming."
"I'm blessed beyond measure when I think of my situation," she added. "I was not in a poor environment when it was going on. I think that it happens behind closed doors and until the early 90's when the violence against women legislation came into play many people thought, 'Well, whatever happens behind closed doors is between a husband and his wife.'  We had law makers that actually said, 'If a man is married to his wife, why wouldn't he expect sex or certain behaviors?'  It's really humbling to know that there are people who dedicate their time and use their talents and skills to serve those who are less fortunate and to inspire others. I hope that when I am frank and I tell my story that people feel a sense of connection that allows them to feel the courage they need."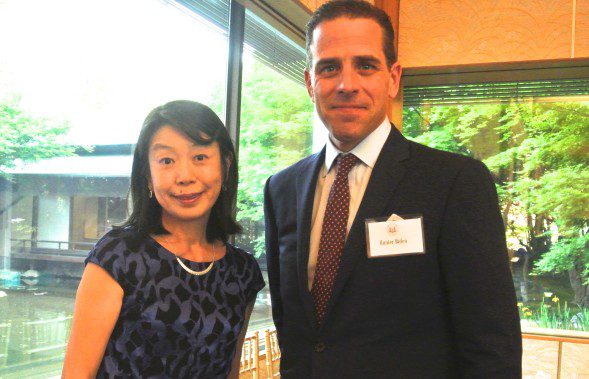 Mrs. Sasae with Hunter Biden, son of Vice President Biden
We wondered how these women who don't have any money and are in an abusive relationship find the organization. "We get a lot of our referrals through the courthouse," Kathleen explained. "We also have a walk-in clinic and we work with other agencies. We just started our fund-raiser last year and we raised enough money to open up a walk-in clinic a couple of days a week that has other services. Women who are coming in for different family issues are able to talk to our volunteer lawyers there. It gives volunteer lawyers another way to get involved, to get legal advice."
"We only provide legal services, but we hire social workers who act as the intake so that when a woman calls, the first question she's asked is 'Are you somewhere safe?' Now the problem is that there are a million other issues that I personally would like to help with," she further explained. "There's a housing shortage. Women, when they leave their husbands, get further punished by being in a homeless shelter with men. There's that issue but my point is, and I've been on the Board of DCVLP almost from the beginning, is that cannot be what we do. If we're not meeting the legal needs of the community, we cannot expand to other services. For this program, for DCVLP, we only do legal services but we try to bridge the path for these women to housing, financial services. We have an out-branch. It's called the Anchor Fund that we just started but we had to keep it separate from DCVLP. That's an emergency service for victims of domestic abuse."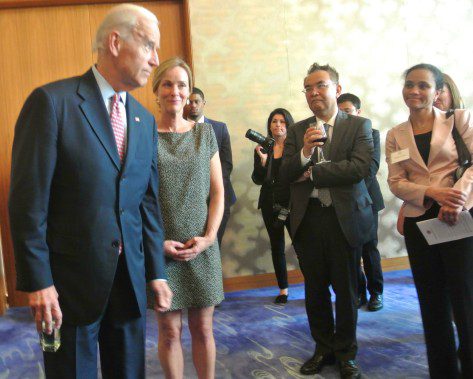 Vice President Biden with Kathleen Biden
"What our organization does is so much more than just getting Civil Protective Order," said Kathleen. "It says to women you're worthy….. we believe in you….. you are not at fault. When they go to court and they have two lawyers representing them, and then they have a judge who rules in their favor and says, 'You do not deserve this,' it's really empowering. It changes their lives. It really does because you know with domestic abuse it's never just physical abuse. It's emotional, it's mental. They abuse, they control with money. They control with the kids, with custody. They just beat women down in so many ways other than the physical. When the woman has enough strength to come and say I want to get the Civil Protective Order and you support her, we've watched clients go back to school and start new lives, and they do."
We asked Tisha about solutions as pertains to men and their upbringing:  "I think there are a couple of reasons or many reasons for bad behavior. There's generational behaviors. Maybe they've never seen a healthy, loving, supportive relationship. It could be the shame involved. Something that I've always taught my kids is to use your words and I think a lot of times when people have not learned to speak through conflict or to express their feelings with their words, it comes out physically. Unfortunately, that becomes circumstances that results in domestic violence so I think that if we can tell our young sons anything and even our daughters anything, it's to use your words. Use your voice to stand up for yourself. Use your words to articulate your thoughts and feelings and hopefully we'll one day see a time where this is not an issue."
Guests were treated to a Japanese buffet, a silent auction and a wonderful choir in the foyer.
— by Janet Donovan  | Photo credit: Janet Donovan
https://dcvlp.org/wp-content/uploads/2016/02/Hollywood.jpg
180
590
Jackie
http://www.dcvlp.org/wp-content/uploads/2022/09/Untitled-design-4-300x78.png
Jackie
2015-05-15 23:47:16
2016-02-10 12:32:47
Biden & Biden